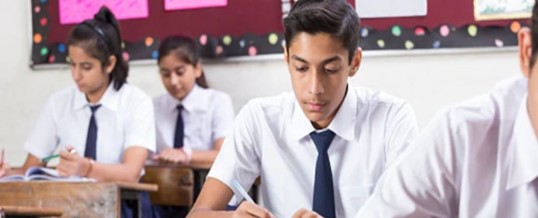 Last Updated: 10 Dec 2020 08:22 PM (IST) | ABP News Bureau
Chandigarh: Haryana's Directorate School Education has announced the resumption of classroom studies for students of classes 9 to 12.
Physical classes for senior schoolchildren in Haryana will begin next week, the state government informed.
For students of std 10 and 12, schools will reopen from December 14 while physical classes for students of classes 9 and 11 will resume on December 21. The school teaching for students of class 10 and 12 will be conducted from 10 am to 1 pm.
Students will have to produce medical certificates which state their health condition to be normal while mentioning that they do not have symptoms of Coronavirus infection. The certificate is compulsory for being allowed to attend classes and cannot be older than 72 hours, the notice reads.
Everyone's body temperature will be checked at the entrance and those who have higher than normal body temperature will not be let in.
District administrations also have to ensure free medical check-ups for students.
Coronavirus Spread In Haryana's Schools
In early November, as many as 11 students and 8 teachers of a school in Haryana's Jind tested positive for coronavirus disease. This development occurred soon after schools for classes 9 to 12 were reopened in the state.
After 11 students and 8 teachers tested Covid-19 positive, the state government took cognizance of the issue and ordered to conduct Covid tests in all schools across the state.
Besides Jind, Rewari also witnessed a shocking outbreak among students.
72 out of the 837 students in 12 government schools in the Rewari district, including the Government Senior Secondary School in Kund were tested Coronavirus positive in school.
All the infected students were residents of Padla, a nearby village in Kund. Their families were tested while the village was sanitized.
"Due to the festive season, there is movement and people are meeting each other so we tested students of 12 schools. We will continue testing students to curb Covid-19 spread," the Nodal Officer had said.
Besides this, at the Kund Government School, in the Khol area of Rewari, 19 out of 33 students were found to be Covid-19 positive.
At this point, how willing are parents to send their children for physical classes remains to be seen.
(This article has not been edited by Campus Fortify staff and is published from a syndicated feed.)