The convenience of purchasing everything under one roof, thus eliminating the hassle to co-ordinate with multiple vendors.
We have partnered with an Educational and Corporate solutions organisation that cater to all the school requirements, there by making available under one-roof multiple products and services. Our mission is to provide the most cost-effective rates of products and services to our clients with best-in-class quality and timely delivery for long and fulfilling relationships with our clients.


They are exclusive dealer of Nike Revolution Shoes in Maharashtra & Gujarat. Benefits of Nike Revolution School Shoes:
Ø One Year Official Warranty on Manufacturing Defects.
Ø Premium Quality Shoes.
Ø Non-Markable Shoe
Ø All Weather Shoes.
Ø Scientifically proved that it protects from Limb & Knee Injury
Ø Designed for comfort and flexibility.
Ø Provides Natural range of Motion and Ventilation.

Over and above our Fundamentals of Safety approach we also help in setting up safety practices & manuals as a complete 360 degree approach from identification to providing solutions by implementing processes and practices. These include Active monitoring, Background checks, Health services and other essential checks.
Safety Practices
Implementation of security system to protect students within the Educational Institutions is carried out along with periodic monitoring and assessment of the security controls in & around the premises.
Safety Procedures & Safety Manual (Campus Specific)
Child Protection & Abuse Policy
Visitor Management
Access Control Management
Employee Background Checks and Documentation
Transport Policy
Laboratory Safety Guide
Guidelines for Outbound Educational Programme
Safety Committee
Evacuation Plan
Incident Management
Food and Safety Standards
As Safety Consultants, we are here to assist educators to plan & prepare for the reopening of schools. We conduct and provide the following Covid 19 related services:
Safety Audit
Covid19 & Infectious Disease Manual
Covid19 Safety Awareness Training module
Covid19 Safety Posters
Covid19 Prevention Kit (Details of Kit available in Other Services)
Posters and Signage on Safety & Hygiene
Safety & Hygiene Posters and Signage are an important part of the Safety campaign and are required to be put up at prominent places in the Educational Institutions to bring in a safety culture among staff and students.
The posters have been thoughtfully designed keeping in mind the various stakeholders at an educational institution. A couple of posters are displayed below.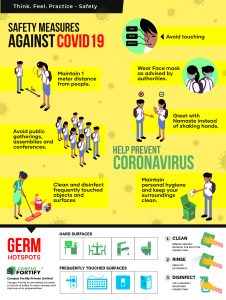 Crisis Management Plan
A crisis can be a predictable or unexpected event that represents a significant threat to the staff, the children in the Educational Institutions and the customers i.e. the parents, business operations, property, the brand or reputation of the organization. The Crisis Management Plan defines roles and responsibilities for the Management of the Educational Institutions in preparation for, during and after a crisis.
The crisis management plan is a process and structure by which the management of the Institute manages the impacts of a crisis until the crisis is either under control or contained. Crisis is dynamic, often multi-faceted and challenging. It is predictable that there will be violability, uncertainty, complexity and ambiguity – therefore by having a structured crisis management response, the impact of these characteristics can be minimized and managed more effectively.
Health & Hygiene products

Maintaining School Hygiene and sanitisation has always been a top priority in most schools however since the onset of the Corona virus pandemic, along with personal hygiene it has become the most important weapon to fight against this pandemic in the school environment.
We need to ensure the material that is used for sanitisation and the products used to protect us & enhance hygiene are approved by authorised agencies are of right standards else the entire purpose is defeated.
A few products necessary to fight this pandemic required by schools can be provided by us.
Please write to us or call us for any requirement you have for the below:
Crimes against children in India
Overall crimes against children have increased steeply over six times in the decade over 2008-2018, from 22,500 cases recorded in 2008 to 1,41,764 cases in 2018, according to the NCRB data from 2008 and 2018.
In 2017, 1,29,032 cases of crime against children were recorded. Kidnapping and abduction continue to be the most prevalent, accounting for 42 percent of the total 1,29,032 cases of crime reported.
Although the government is taking steps by creating laws, cyber units, increased surveillance and stringent punishments for crimes against children under Protection of Children from Sexual Offences Act (POCSO) civil society must play an active role in the prevention of crime against children.

Schools can help keep children safe by being proactive, and conducting age-appropriate education programs as well as self-defense courses.
Claudelle Monis, an English Literature and Corrective English professor says, "I think self-defense should be a mandatory subject in schools, to allow children the opportunity to defend themselves in the face of danger. Apart from this, I also think children should be taught to watch out for predatory behaviour, and report any display of it to adults they trust."
Self-Defense and Martial Arts are not the same thing!
Self-defense is the means of defending oneself from physical violence and can be learned by anybody be it elderly, small, someone with a physical disability, or even by someone who is out of shape. It is a common misconception that self-defense and martial arts is the same thing, and to protect themselves, one has to learn martial arts. Originally martial arts did evolve as a form of self-defense and suited the requirements of the people of that particular time and age.
However, it might not necessarily be appropriate in modern-day practical needs.
"There's only one basic principle of self-defense- you must apply the most effective weapon, as soon as possible, to the most vulnerable target."
~ Bruce Lee
Campus Fortify has partnered with an esteemed self defense organisation to enhance safety for children by teaching self defense to children as well as school staff. The organisation is entirely focused on teaching self-protective tactics, based on realistic self-defense.
We primarily train students on a tactical system that emphasises on choosing the best response for a particular circumstance. Confrontations occur at different phases, and the response is dependent on each specific phase. We build your awareness levels to help you identify potential threats and impart preparation drills to make your responses more instinctive. We also teach you the most effective tactics to defend yourself against the most common and the most dangerous physical threats.
We offer a wide variety of safety training programs and teach techniques to use against harassment, abuse, and assault, including everyday situations.
Each one of these programs can be customised as per your requirements and these useful skills can be learned quickly.
In our endeavour to ensure safety in all aspects of schooling we are continuously working towards sourcing products for our clients which are reliable and safe.
We have tied up with manufactures for a wide range of innovative products out of EVA foam. The products are devoid of any sharp edges or hard surfaces and are designed to create injury free spaces for our little ones at schools, at play or at home.
These products help in enhancing the safety in schools by the usage of corner guards for your existing furniture or edges of walls and pillars, we provide door stoppers to prevent finger injuries and much more.
We can supply Eva Foam Interlock and Puzzle mats in varied sizes and thickness to ensure that sufficient cushion for the floor space.


We primarily service schools, preschools, play schools & day care centers other than requirements for corporate for setting up creches, Hospitals , Resorts ,Hotels, Play zone for indoor toddler play area, Educational Institutions by creating new learning aids and games as per client specification.
We help make learning fun with our unique range of puzzles, learning toys and board games.
How to maintain Hygiene
You may mop the mats lightly with branded disinfectants.

In case of stains, you may use a solution of warm water and vinegar and scrub them clean. This also works as a disinfectant

Dish wash liquid and a light scrub are good to clean off any stains from the product
Our products are designed for use, indoors. The colour of the products does not fade after repeated cleaning or years of usage if strictly used indoors.